Jamaica Journey Part 2 - The Body
Jamaica Journey Part 2 - The Body
By Sharon Fong, BA, CNP, Holistic Nutritionist
I Love to 'Eat Well! I absolutely love Caribbean and Jamaican food. On my recent trip to Jamaica I indulged everyday in some of the most scrumptious food I've tasted. You can taste the difference when food is locally grown, wild caught, organic, sun dried or simply made with some good old fashioned 'TLC'. Wow...I'm starting to salivate and lick my lips right now thinking about all the yummies I had. 😋
Here is a quick rundown of some Caribbean food I sampled and the benefits.
🍈Breadfruit- roasted or fried.
Breadfruit looks like a fruit but tastes like a cross between bread and yam. Yum! Breadfruit is rich in amino acids to help your body store nutrients, keep your heart strong and may prevent oxidative stress. Breadfruit is filled with vitamin C, fiber potassium and antioxidants.
🌴Coconuts, coconut water and jelly- an excellent way to stay hydrated. Coconuts are full of electrolytes and minerals.
👍Papaya and papaya seeds Are high in vitamin C and antioxidants. Great for digestion, anti-inflammatory, strengthens the blood and has cardiovascular benefits.
♥️ Saltfish and Ackee, Jamaica's national dish. Ackee is high in B and C vitamins. Ackee may aid in digestion, lower blood pressure, control type 2 diabetes and improve heart health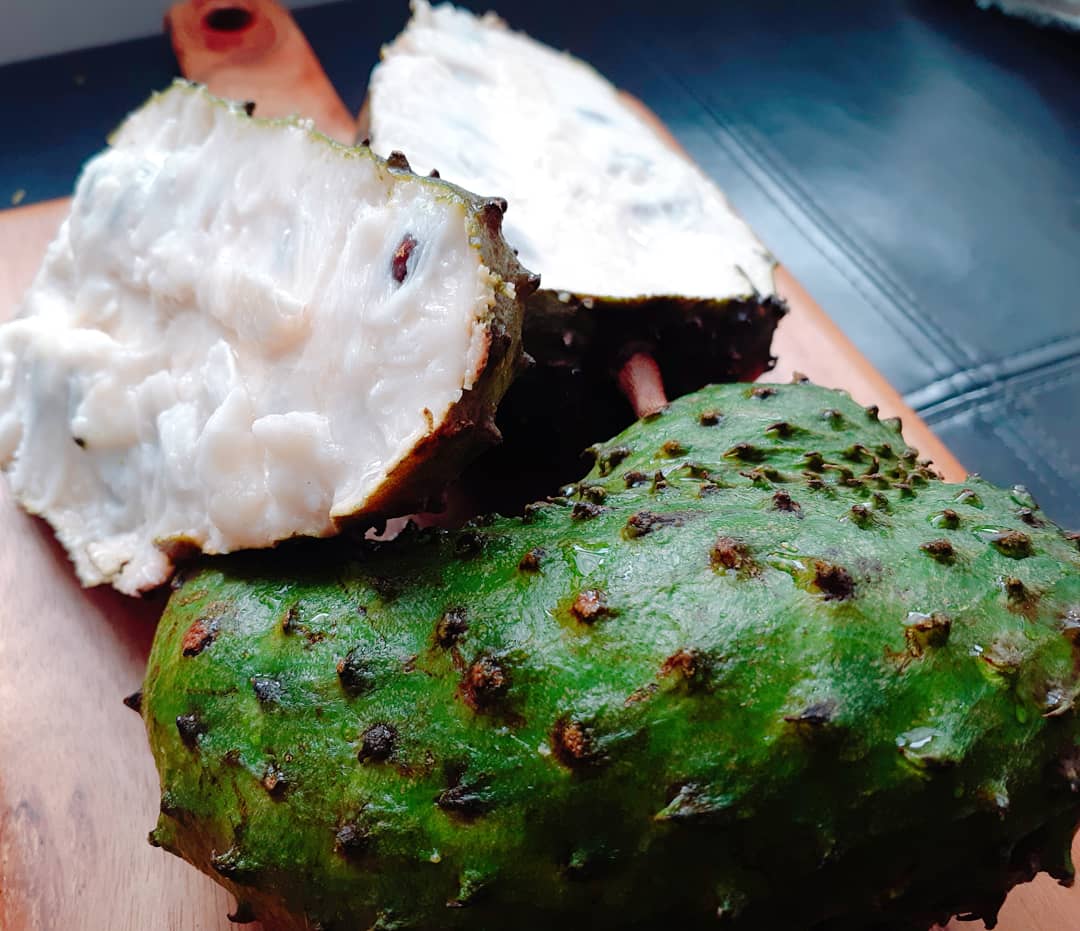 is a delicious fruit with a creamy custard texture.

🍮Soursop (Graviola) is a delicious fruit with a creamy custard texture. Our self is packed with vitamin C, potassium and magnesium.
🍵Soursop leaf tea - some say it may have anti-cancer properties.
🐟Red snapper fish caught fresh from the sea and into the pan. Cooked escovitch style with onions, pepper, carrot, thyme, spices and okra. Served with salt fish fritters (fried dumpling with salted fish. pepper and spices).
Lobster with garlic butter and freshly squeezed lime (my favourite dish). This lobster was so fresh, tender and finger licking good. It was the most memorable dish because I savoured each delightful bite on the beach with great friends. Mindful eating at its finest!
🐙🐚Conch and 'Sea puss' curry with rice and peas.
🐚Conch is found inside conch shells and cooked.
🐙'Sea puss' is a term for octopus. (Makes sense since octopus comes from the sea...right?)
🦐🍤Pepper shrimp. Marinated in pepper, spices and salt. Spicy goodness that can be eaten as a snack or paired with veggies and breadfruit for a balanced meal.
Did you Know?
Seafood including fish is a high protein food that is low in calories and saturated fat. It is high in vitamins and minerals and have numerous health benefits such as it may decrease the risk of heart attack, stroke, obesity and hypertension.
🍗♨️Jerk chicken is a Caribbean favourite served fresh off the barbecue drum. Jerk spices can include pimento, Scotch bonnet peppers and ginger. I will never forget the nostalgic feeling of eating this late evening snack by a beach bonfire. 🎇🔥Sitting under the stars and moonlight with the sound of the ocean and reggae music playing in the crisp night air... is a special memory that brings me to my happy place.🎶🌌

🍍🥑🍹I realize that I nourished my body with fresh local nutritious food and drink. I incorporated mindful eating during my trip which heightened the eating experience. I nourished the body with exercise everyday to include walking and swimming. I did deep breathing by the sea and soaked my body in the warm salt water. I can truthfully say that my body got the much needed rest and recharge that it needed.🏊‍♀️💃🏖

💆‍♀️💪🙌Holistic living incorporates your mind, body and spirit. It's all about juggling, balancing and integrating healthy modalities into your life. You can achieve this in the little things you do everyday or through a special trip. Either way, I strongly encourage you to listen to your body and nourish it accordingly.💖💮🌱
This is the second part of our Jamaica series focusing on the 'body'. Catch us on Part 3 which incorporates the 'Spirit'.
Connect with us on Instagram or Facebook to see more of this exciting journey.
Visit our Services to learn more our about our inspiring services and packages.
We specialize in mindful workshops, including 'Chocolate Meditation' parties and workshops.
Check out our Summer Body Package and be Summer Body ready!
👙🕶🌞

are always the best!
Enjoy the Juicy Goodness of Pineapple, Mango, June Plums, Oranges, Bananas, Star Apple and the list goes on!